"For fans of
The Great British Bake Off,
this is a story about family life, unfriendly rivalry and flat Victoria sponges
Marie Dunwoody doesn't want for much in life. She has a lovely husband, three wonderful children, and a business of her own. Except, her cupcakes are crap. Her meringues are runny and her biscuits rock-hard. She cannot bake for toffee. Or, for that matter, make toffee.
Marie can't ignore the disappointed looks any more, or continue to be shamed by neighbour and nemesis, Lucy Gray. Lucy whips up perfect profiteroles with one hand, while ironing her bed sheets with the other. Marie's had enough: this is the year it all changes. She vows to follow - to the letter - recipes from the Queen of Baking and at all times ask 'What would Mary Berry do?'
Husband Robert has noticed that his boss takes crumb structure as seriously as budget sheets and so puts on the pinny: serious redundancies are on the horizon. Twins Rose and Iris are happy to eat all the half-baked mistakes that come their way, but big brother Angus is more distant than usual, as if something is troubling him. And there is no one as nosey as a matching pair of nine-year-old girls . . .
Marie starts to realise that the wise words of Mary Berry can help her with more than just a Victoria Sponge. But can Robert save the wobbling soufflé that is his career? And is Lucy's sweet demeanour hiding something secretly sour?
*** This is a work of fiction, in no way endorsed by Mary Berry, and where neither Mary Berry herself nor her recipes feature. ***"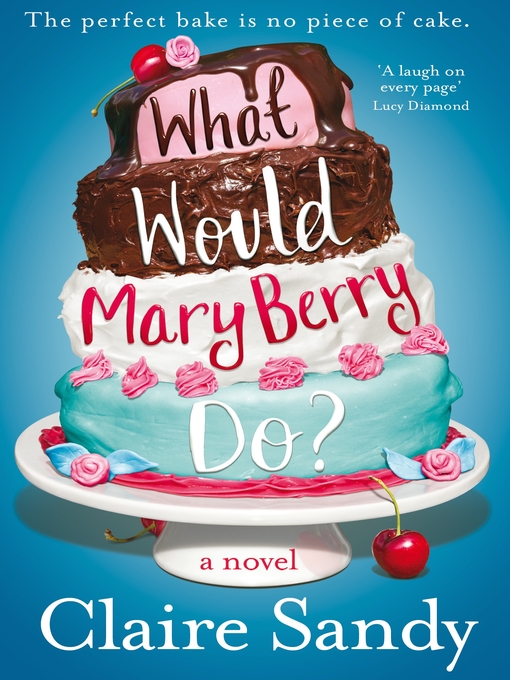 What Would Mary Berry Do? is a lighthearted book, but it does cover some serious issues; bullying, fear of redundancy and the associated money troubles, marriage problems and good old rivalry and jealousy.
Baking does not entirely overwhelm this book, although it does form the backdrop (and what a lovely backdrop cakes make!). I liked that each chapter focused on a particular creation of Marie's (with Mary's help) but also followed Marie and her family through a year of their lives, in which a lot can change (not only going from complete and utter disaster to a seasoned baker).
I loved that Marie's husband also got involved, invoking the help of Paul Hollywood. I liked Marie's children, both the twins who made me laugh and Angus (and his soulmate....you'll have to wait and see, but it is just adorable!). I also liked Lucy...whilst she is the most annoying person at the beginning of the book, she really does grow throughout the book (almost as well as Marie's baking skills).
I did find it a little predictable in places i.e. the outcome for Marie's husband and also the outcome for Lucy. However, I would never have guessed what Marie was planning for her showstopper at the end of the book.....!
With the return of The Great British Bake Off this week, you should probably find out What Would Mary Berry Do?
You can also follow the What Would Mary Berry Do? blog tour!
Thank you to Pan Macmillan for the review copy in exchange for an honest review.